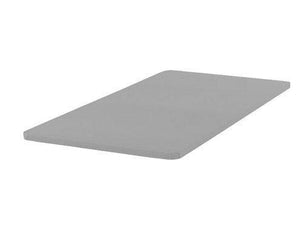 Bunkie Boards from Symbol Mattress Company
IMPROVES YOUR NIGHTS REST, By adding firm support to any kind of bed for better back support, deeper sleep, fatigue reduction, spine position and blood flow

SUPER STRONG, Stitch bond fabric material that can support heavy weight, can use two side-by-side to fit a King size mattress

MADE IN USA, color-grey color may vary

DOESNT MOVE AROUND, under your mattress, as your bunkie board gives you consistent support which equals a great nights rest and less back stiffness

BOARDS EXTEND THE LIFE OF ANY MATTRESS, simply sliding it underneath, making your mattress feel firm, supportive, fresh and new

WORKS GREAT WITH, bunk bed, platform beds, daybeds with supporting slat system

STRONGLY SUGGESTED FOR ANY MEMORY FOAM MATTRESS if using a platform bed, preventing the foam from squeezing between the slats.
ONLY 1 INCH TALL (2.5 CM) to keep your mattress height consistent
KING BUNKIE BOARD COMES SPLIT IN TWO (TWIN XL), Just put the two Twin XL bed boards together and they are ready to use. Order two (2) Twin XL for a King size bed.
The 1-inch Bunkie Board provides a surface foundation for any platform beds, bunks and daybeds. It adds support to the mattress and will keep mattress stay in good shape thus extending the life of your mattress. It will give a firm bottom support for the mattress and raises the mattress up for about 1 inches. When a mattress is placed directly on slats or metal spring, the mattress will have the tendency to rip or sink. These can be avoided with the use of a Bunkie board. Using a Bunkie board increases the mattress' life expectancy. This Bunkie board is a good alternative in lieu of a box spring that may be too high for day beds. It will give the bed a lift without adding much height. This Bunkie board is strong enough to be used directly on bed frame in lieu of a box spring. It will give the mattress a lift which is a quite low but will definitely hold up the mattress. It is wrapped in a stitch bonded nonwoven fabric.